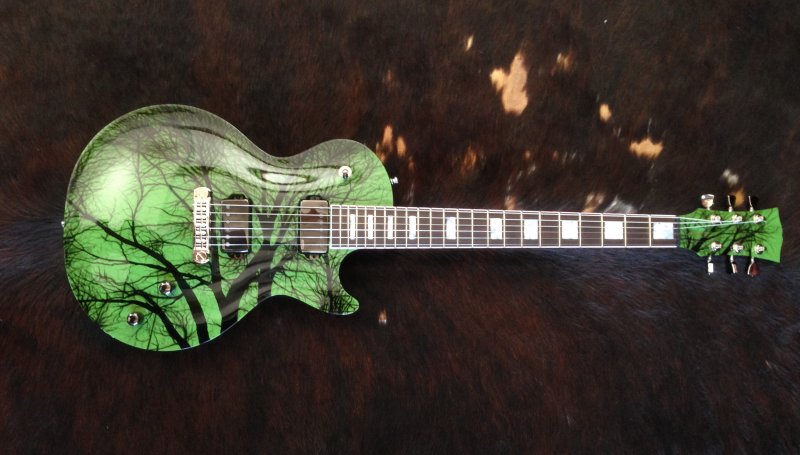 Hi PhilIt took me some time to finish my guitar project but I'm very happy and proud how it ended.
Last year I bought my first kit from you and decided to build a unique guitar with a forest design I had in mind.

I love the sound and wanted to have a guitar to play metal and heavy rock. I'm a 59 Carved Top style user and wanted to keep that sound.

This guitar is loaded with EMG Hetfield Pack, Grover tuners, tonepros wraparound, 10-52 strings, Drop C, and a very comfortable 60's neck.

I've enjoyed it for a month and I'm really impressed with his quality and heavy sound.

Thank you very much for doing excellent kits and make my dream come true!!

I hope you like it!

Best Regards from Chile!

Jose Luis

This is what I bought:

59 Carved Top | Customized
Wood Species: Mahogany – African, Body Construction: 1 Piece. Body Type: Chambered, Maple Caps: Plain Maple Cap , Pick-Up Rout: Humbucker, Control Cavity Configuration: Control only with 2 pots, Bridge Set Up: Wraparound , Binding: Neck Binding – White, Fret Board Species: Rosewood, Fret Board Markers: Block, Tuner Holes: 10 mm, Frets: Jescar 45/100, Headstock Profile: Paddle Headstock, Neck Back Profile: 60's Slim, Right Hand or Lefty: Right Handed.